Lynn and Bill are the Taylors. We currently live in Ladera Ranch, CA.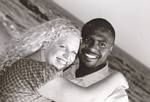 &nbsp
Click on our heads to go to each of our sections of the site.
&nbsp
&nbsp
Lynn moved to the US from the UK in October of 2000. Her move to the US marked the beginning of a HUGE year for her.
Can you believe she has yet to make it to the beach? She does seem to have some excuses for her behavior though.
We married on August 31, 2001 and moved into our new home on December 21, 2001. Lynn then hosted Christmas dinner for 9 because moving into a new house was not enough stress. Needless to say, the Villa Maria was the first box opened.
Bill grew up in Orange County, CA and, although he "spent some time" back east going to school, he finished at UC Irvine. Southern California weather is so much nicer than the east coast.
June 1, 2004 was a GREAT day for us. We celebrated the arrival of our first child, William Gabriel. Gabriel was born at 5:05PM to his parents' anticipation, joy(mum and dad) and relief(mum) after 47 hours of contractions, labor (including 3 hours of pushing!) and C-Section surgery. Our precious bundle of joy arrived 2 weeks early weighing in at a hefty 8 pounds 2 ounces and was 20 inches long.